龍膽瀉肝丸 Long Dan Xie Gan Wan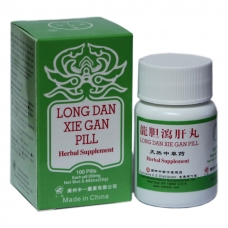 Product Code:
JP-004
Reward Points:
0
Availability:
In Stock
Price:
$7.75
$5.75
Ex Tax: $5.75
This product has a minimum quantity of 12
成份: Ingredients: 龍膽,地黃,桅子,黃岑,柴胡,車前草,澤瀉,甘草.Radix Rehmanniae, Rhizoma Alismatis, Radix Gentianae, Radix Bupleuri, Radix Glycyrrhizae Preparata, Fructus Gardeniae, Radix Scutellariae, Radix Angelicae Sinensis, Semen Plataginis. 作用: Actions: 清利肝膽濕熱,保養肝膽系統及調理前胸腔,口腔,內耳和泌尿系統.Helps Maintain the health of the liver and gallbladder system. also supports the health and well being of the chest, the mouth, the inner ear and the urinary tract. 警告: Warnings: 孕婦切勿使用, 不能長期服用或超出建議量, 存放於兒童不能接觸的地方.Do not use if You are pregnant. Not recommended for long term use. KEEP OUT OF REACH OF CHILDREN. Availability: Usually ships in 1-2 business days. Ship Weight: 0.3 lb. 100 粒/Pill x 250 毫克/mg 根據美國醫藥衛生條例,以上中醫藥理並未經美國食品及醫藥局正式評估,因此,本品不宜作診斷,治療,治癒或預防任何疾病之用. This statement has not been evaluated by the Food and Drug Administration. This product is not intended to diagnose, treat, cure, or prevent any disease.
Write a review
Your Name:
Your Review:
Note: HTML is not translated!
Rating:
Bad
Good
Enter the code in the box below: