川貝枇杷露 Fritillary & Loquat Extract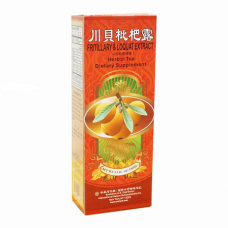 Product Code:
FL-12
Reward Points:
0
Availability:
In Stock
Price: $7.75
Ex Tax: $7.75
12 or more $5.75

This product has a minimum quantity of 12
成份: Ingredients: 川貝母流浸膏、 桔梗、 枇杷葉、 薄荷、 杏仁香精、 蔗糖、 水.Tendrilleaf Fritillary Bulb liquid extracts, Platycodon Grandiflorum Root , Eriobotrya Japonica Leaf, Mentha Arvensis Top, Almond Essence, Sucrose, Water. 作用: Actions: 川貝枇杷露為中國傳統純中藥製劑, 有助於清熱化痰, 促進喉嚨和支氣管系統的健康. Fritillary & Loquat Extract is a Chinese traditional dietary supplement. Support the health of the tissues lining the throat and the respiratory system. 注意事項: Warnings: 如封印紙有損壞請不要使用.保持密封,存放於陰涼乾燥的地方存放於兒童不能接觸的地方. Do not use if cap seal is broken, keep tightly closed and store in a cool, dry place. Availability: Usually ships in 1-2 business days. Ship Weight:16 oz Net Wt.:5.3 fl/oz (150 ml) 根據美國醫藥衛生條例,以上中醫藥理並未經美國食品及醫藥局正式評估,因此,本品不宜作診斷,治療,治癒或預防任何疾病之用. This statement has not been evaluated by the Food and Drug Administration. This product is not intended to diagnose, treat, cure, or prevent any disease.
Write a review
Your Name:
Your Review:
Note: HTML is not translated!
Rating:
Bad
Good
Enter the code in the box below: