人參再造丸 Ren Shen Zai Zao Wan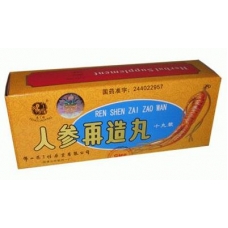 Product Code:
FL-09
Reward Points:
0
Availability:
In Stock
Price: $16.95
Ex Tax: $16.95
成份: Ingredients: 人參,琥珀,乳香,金蝎,沒藥,細辛,天竺黃。Ginseng root,Amber,Olibanum,Scorpion,Myrrh,Manchurian wildginger herb,Tabasheer。 作用: Actions: 袪風化痰,活血通絡,適用於中風,步行困難,口眼歪斜,手足痙攣,左瘫右瘓,筋骨疼痛,半身不遂,言語不清。 Supports yhe health of the neurologic, muscular and skeletal system. 注意事項: Warnings: 孕婦禁用,ot to be used during pregnancy. Availability: Usually ships in?-2 business days. Ship Weight:?.3 lb. 10?#20024;/Pill?/FONT> 根據美國醫藥衛生條例,以上中醫藥理並未經美國食品及醫藥局正式評估,因此,本品不宜作診斷,治療,治癒或預防任何疾病之用. This statement has not been evaluated by the Food and Drug Administration. This product is not intended to diagnose, treat, cure, or prevent any disease.
Write a review
Your Name:
Your Review:
Note: HTML is not translated!
Rating:
Bad
Good
Enter the code in the box below: