前列線丸(解結丸) Prostate Gland Pills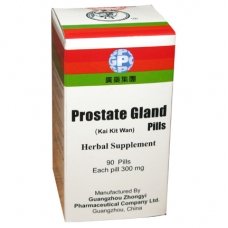 Product Code:
JP-025
Reward Points:
0
Availability:
In Stock
Price:
$7.75
$5.75
Ex Tax: $5.75
This product has a minimum quantity of 12
前列線丸(解結丸) (Kai Kit Wan) Prostate Gland Pills 成份: Ingredients: 車前草,滑石,赤芍,黃荗,王不留行,敗醬草,黨參,延胡索,甘草,牡丹皮。Asiatic Plantian Herb, Talc, Red Peony Root, Astralagus Root, Vaccaria Seed, Patrinia Herb and Root, Codonopsis Root, Corydalis Rhizome, Chinese Licorice Root, Tree Peony Root-Bark. 作用: Actions: 有助於清熱袪濕,利尿通淋,維持前列線,泌尿系統的健康.Supports the health of the prostate gland, the urinary system. 警告: Warnings: 存放於兒童不能接觸的地方. 嗱EEP OUT OF REACH OF CHILDREN. Availability: Usually ships in 1-2 business days. Ship Weight: 0.4 lb. 90粒/Pills x 300 毫克/mg 根據美國醫藥衛生條例,以上中醫藥理並未經美國食品及醫藥局正式評估,因此,本品不宜作診斷,治療,治癒或預防任何疾病之用. This statement has not been evaluated by the Food and Drug Administration. This product is not intended to diagnose, treat, cure, or prevent any disease.
Write a review
Your Name:
Your Review:
Note: HTML is not translated!
Rating:
Bad
Good
Enter the code in the box below: